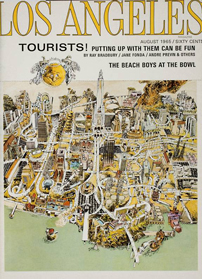 As part of its 50th anniversary celebration, Los Angeles Magazine has reached into its archive and put its covers online. When I browsed the collection, I was surprised how many of them I remembered from either reading particular issues or seeing them on the newsstand.
Seeing the magazine's covers presented chronologically by year highlights the degree to which they represent markers in time. The majority of early issues featured drawings on the covers and were not personality driven. Then in the late 60's the publication began using more photographs and by the early 70's started putting celebrities on its covers, moves likely intended to sell more magazines but also reflective of changing social sensibilities.
Check out the online archive for yourself and take a tour of this interesting collection.