This Monday evening, Gilles Apap, the former concertmaster of the Santa Barbara Symphony and classically trained French violinist, is joined by The Transylvanian Mountain Boys at Cicada at the Oviatt.

Hailed by Yehudi Menuhin, his mentor, as "a true violinist for the 21st century," Apap is a musician clearly adept at blurring the boundaries of different musical styles and integrating a diverse range of music into his repertoire, including gypsy music, swing, Irish music and bluegrass, as well as the masterpieces of classical music.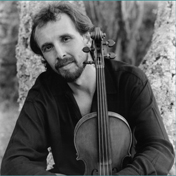 Photo via Gilles Apap's web site
In addition to enjoying "the genre-bending artistry" of this virtuoso violinist, audience members will be surrounded by the sumptuous interior of the Cicada restaurant situated in the Oviatt Building (Walker & Eisen – 1928), which was the first Art Deco building in Los Angeles. I remember eating in the elegant dining room many years ago (it was then Rex Il Ristorante) and was particularly impressed with the extensive use of Lalique glass and burnished wood.
This concert is part of the The Da Camera Society's Animato Series, which presents "an eclectic array of music in a diversity of intriguing sites reflecting the artistic and cultural spectrum that is L.A. From an elegant Art Deco restaurant to the New LAPD Headquarters; from silent films with their original scores to a great museum's special exhibit of Chinese art."
When: Monday, December 13 at 8:00 pm
Where: Cicada at the Oviatt 617 S. Olive St., Los Angeles, 90014
Cost: $49 / $39
Tickets: Available online from the Da Camera Society's web site.
More Information: Call (213) 477-2929 or visit www.dacamera.org