When Allison Miller arrived in New York City in the mid-90s, she was looking to establish herself as a straight ahead jazz drummer with the chops and taste to accompany the city's elite improvisers. Within a few years she attained her ambition, working regularly with singular bandleaders such as organist Dr. Lonnie Smith, reed master Marty Ehrlich and Sex Mob trumpeter Steven Bernstein. But she had also grown up loving rock, folk and funk, and her other musical passions have led her into a double musical life, touring and recording with charismatic singer/songwriters Ani DiFranco, Brandi Carlile and Erin McKeown.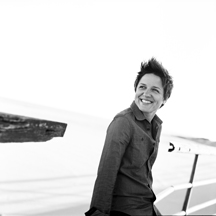 Press photo courtesy of Smith Banfield via Allison Miller's web site.
In recent years, she's blossomed into a highly regarded composer and bandleader in her own right. Her band Boom Tic Boom, which celebrates the release of its self-named Foxhaven Records CD at Culver City's Royal/T on Friday, is impressive by any measure. Featuring protean Berkeley pianist Myra Melford, ravishing violinist Jenny Scheinman and capaciously creative bassist Todd Sickafoose, the quartet consists of artists who are all acclaimed bandleaders and composers. Together, they infuse Miller's music with joyful volatility.
Where: Royal/T, 8910 Washington Blvd., Culver City
When: 8 p.m., Friday Dec. 10
Cost: $12 general admission / $8 for students
Tickets: Available online through Eventbrite.
Information: 310.559.6300, www.royal-t.org
Purchase Album: Available on CD or MP3 at these links.
The Jazz Pick of the Week is written by Andrew Gilbert.