This Saturday, The Studio for Southern California History is hosting a holiday book boutique and bake sale "featuring recent and memorable work related to Los Angeles history—from children's books to advanced scholarship." A number of local poets, historians, and children's literature authors plan to attend this event and sign their books, such as Martin Cox and Gordon Ghareeb (Hollywood to Honolulu, The Story of the Los Angeles Steamship Company), William David Estrada (The Los Angeles Plaza: Sacred and Contested Space) and Olga Garcia Echeverria (Falling Angeles: Cuentos y Poemas), among others. For a complete list of participants, please check out this event flyer.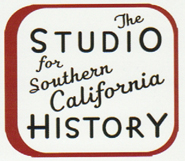 If you've never heard of The Studio for Southern California History, it's an organization that's worth getting to know. Dedicated to chronicaling southern California history from a social and cultural perspective, this nonprofit resource center critically chronicles and disseminates the region's social history in order to foster a sense of place and social responsibility.
Proceeds from the sale of various products, such as LA History Playing Cards ($10), "A Few of our Favorite Trees" 2011 calendars ($10) and T-shirts – each with a local history story ($20) will benefit the Studio. In addition to supporting this important LA institution, you can find that unique gift for friends and family.
When: Saturday, December 4, 2010 from 6:00 to 8:00 pm
Where: 977 N. Hill Street Los Angeles, CA 90012
More Information: Visit www.socalstudio.org or call 213-229-8890