If you're an animation fan like me, you won't want to miss this event. The producers of LA's own animation festival have teamed up with The Cinefamily to bring an exceptional selection of animated films to our community.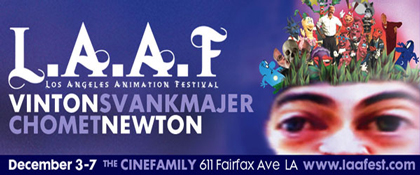 According to The Cinefamily web site, "this year's events include the U.S. premiere of the new Jan Švankmajer feature, Pixar's Teddy Newton discussing his acclaimed hand drawn/3D/CG short Day & Night, plus guest of honor Will Vinton presenting his short films, specials, commercials and a 25th anniversary screening of his 1985 Claymation feature The Adventures of Mark Twain.
And that's only the beginning; the fest will premiere screenings of high-quality contemporary international animated features, including the new Chinese independent feature Piercing 1, the red-hot Japanese anime mindblower Redline, and Sylvain Chomet's new masterpiece The Illusionist. In addition, musician / artist / filmmaker Brent Green will narrate and perform the soundtrack of his new mixed media movie, and we'll close the fest with a live rock 'n roll soundtrack to the trippy cult classic Fantastic Planet! Artists' panels, competition screenings, parties and award presentations — a true international animation festival with something for everyone!"
To learn more about each of these films and associated festival programming, I encourage you to visit The Cinefamily web site. You can also watch the festival trailer below.
When: December 3-7, 2010
Where: The Cinefamily's Silent Movie Theater 611 N. Fairfax Ave. Los Angeles MAP
Cost: Individual shows – $10/$6 Cinefamily members (except where otherwise noted on the Cinefamily web site)
Festival pass – $125/$85 students (NOTE: festival passes will not be available at the box office during the fest. Sales of festival passes will end Wednesday, Dec. 1, 6:00pm, and are limited to a quantity of 75. Students must present a valid student ID at the box office when picking up their Festival Student Pass. Contact The Cinefamily to find out how you can obtain your student discount!)
Tickets / Pass: You can purchase tickets for individual shows or the festival pass from The Cinefamily web site.
LAAF (trailer) from Cinefamily on Vimeo.