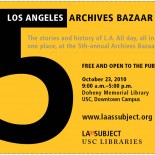 Exploring the 5th Annual Los Angeles Archives Bazaar
I spent this past Saturday at the 5th Annual Los Angeles Archives Bazaar, which was sponsored by LA as SUBJECT and held in the Doheny Library on the USC campus. While the event was free and open to the public, by my estimation the majority of attendees were local archivists, as well as students and faculty from a cross section of southern California colleges and universities.
This was the first time I attended the Archives Bazaar and I felt like a kid in a candy store. I had the opportunity to visit tables staffed by representatives of over 70 southern California archives, some of which I didn't know existed. Each person I spoke with was excited to share what they know about unique aspects of our region's history and to make me aware of the rich resources that they acquire, catalog, organize and preserve.
The best part of these conversations was that I came away with many new topics I want to explore on the pages of Curating Los Angeles. I look forward to tapping my newfound resources as I delve into our local history.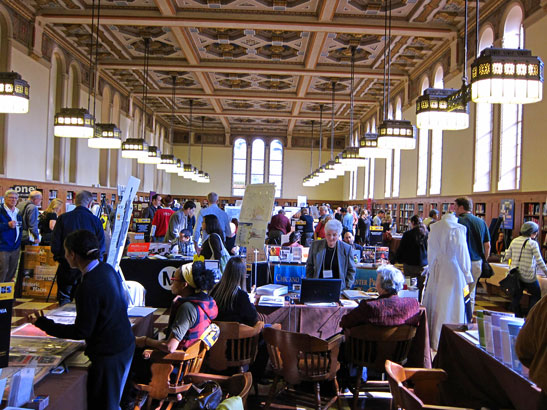 In addition to browsing the archive tables, I also attended several interesting panel discussions, including one on aviation related stories with LA area roots and another focused on the role blogs play in shaping our understanding of the region's past, present and future. Since I'm a new participant on the LA blog scene, I found the insights shared by each of the blogging session panelists to be particularly relevant to my work on this site.
The panel was made up of Kevin Roderick of LA Observed, Nancy Mills of Tales of Downtown and Pat Saperstein of EatingLA.com. Tom Zimmerman, an accomplished photographer and LA native who has published a number of excellent books on the city, expertly moderated the discussion. You can find his books in my ShopLA store.
Another highlight of the day was listening to Patt Morrison deliver the keynote address. While she covered a lot of ground during her talk, one of her key themes was the threat that a paperless society poses to our ability to document, preserve and understand our past. This was a subject that clearly resonated with many in the audience, since archivists have to confront the challenges associated with preservation on a daily basis. So too did her lament that the City of Los Angeles doesn't have its own museum. I couldn't agree more.
What we need is an institution that does for Los Angeles what the Museum of the City of New York does for that great city; namely "…explore the past, present, and future of this fascinating and particular place and to celebrate its heritage of diversity, opportunity, and perpetual transformation."
As I drove home at the conclusion of the event, I felt both tired and exhilarated. I had spent the day surrounded by other people who are as passionate about the greater LA region as I am and as committed to sharing what they know with others. That was a fantastic feeling and I look forward to attending again next year. Perhaps you'll want to join me.