I am very excited to share the first post for Curating Los Angeles written by Andrew Gilbert. Andy is my brother and a prolific freelance writer whose primary focus is Jazz. You can find his articles in the Los Angeles Times, San Jose Mercury News, JazzTimes and many other publications. He will periodically contribute other articles to Curating Los Angeles and share his expertise and passion for the southland Jazz scene.
– Jim Gilbert
When Charlie Haden was growing up in the rural Midwest, images of the big city filled his thoughts. It was the early 1950s, the waning flicker of the Hollywood studio dream factory, and Haden found himself obsessed with the sights and sounds of Los Angeles filtered through a smoky film noir lens.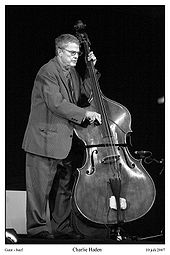 Photo by Geert Vandepoele – Gent, Belgium; 17 September 2007; licensed under CC-SA-2.0
Not that the bucolic life was boring. During his childhood in Iowa, Missouri, and Nebraska, Haden came of age surrounded by country music's biggest stars as the youngest member of his family's country western band. But early on the lure of Los Angeles took hold of his imagination and haunted his grade school consciousness. Even after decades as one of jazz's most innovative bassists and bandleaders, Haden has continued to mine the dark, doomed, romantic imagery that lured him to Los Angeles as a teenager. His cinematically inspired Quartet West has turned into a singularly evocative excavation of LA's mythic past, a history built from Raymond Chandler's acid prose, moody Hollywood scores, and Haden's own experiences in the jazz underground.
"While I was growing up singing hillbilly music on the radio every day with my family, my parents hung around with guys like Ernest Tubb and Roy Acuff and the Carter Family and Hank Williams," recalls Haden, 72. "But we always lived in rural places and I never did get to go to the big city. So in school, in my art classes, all I did was draw cities. I couldn't wait to leave and go the big city. In the end I turned down a scholarship from the Oberlin Conservatory of Music in Ohio because I had read about this school in LA called the Westlake College of Modern Music."
Within months of arriving in L.A. in 1956, Haden was gigging regularly on the Southland scene with top players like pianist Hampton Hawes and altoist Art Pepper. But his most important connection was with an obscure, iconoclastic alto saxophonist/composer named Ornette Coleman. While mostly shunned by LA's bebop community, Coleman gradually attracted a dedicated coterie of like-minded experimentalists, including Haden, trumpeter Don Cherry and drummer Billy Higgins, a groundbreaking quartet that changed the course of jazz when it hit New York City in 1959. Haden's been an essential voice ever since, from his galvanizing sideman work with Keith Jarrett and Pat Metheny to his politically charged Liberation Music Orchestra.
He rekindled his love affair with LA in the early 1980s when he moved back to the West Coast after two decades in New York. Before long Haden decided to start revisiting the images and sensations that first drew him to the city as a teenager. Quartet West became his emotional time machine, a vehicle for exploring the landmarks, both physical and fictional, that shaped his urban vision. For Quartet West's eponymous 1987 debut, Haden recruited his old Coleman comrade Billy Higgins, while powerhouse tenor saxophonist Ernie Watts and the supremely lyrical pianist Alan Broadbent rounded out the combo. The group went on to record five more albums for Verve through 1999 with the same personnel (except for veteran LA drummer Larance Marable taking over from Higgins), an extraordinary series unlike anything else in the jazz canon.
"I was just fascinated by the feeling that surrounded the history and the culture of Los Angeles, especially the movie industry and that special aura it had created, and the Quartet West albums started to be about that," Haden says. "One of my favorite novelists, as far as L.A. is concerned, is Raymond Chandler. Nobody describes L.A. in that time period quite like he does, and it turned out that each Quartet West album would have a quote from one of his novels, and I would write some tunes about some of things that inspired me."
Following this source of inspiration, Quartet West albums became increasingly layered, as Haden shaped the sessions around noir Los Angeles artifacts. While he shares many of the same sources as Hollywood, he's also drawing on a highly personal trove of memories and associations tied to specific voices and songs. All the various strands come together on 1992's "Haunted Heart," which pivots around three treasured recordings from Haden's personal collection, including the title track (by Jo Stafford), "Ev'ry Time We Say Goodbye" (by Jeri Southern) and the little known "Deep Song" (by Billie Holiday).
The requisite Chandler quote (from "The Little Sister") is there in the liner notes, but more significantly the album opens to the strains of "The Warner Bros. Logo Fanfare," followed by a few seconds of Adolph Deutsch's ominous score for John Houston's 1941 classic "The Maltese Falcon" (which is set in San Francisco, something of a noir annex for LA). What's most striking is the way that Haden seamlessly weaves the vintage vocals into the bop classics, standards and moody Broadbent originals, creating a sustained sense of loss and nostalgia. He makes his cinematic ambitions plain in the credits, which describe him as the album's director. Including source material isn't a new technique for Haden, but in the past he's used artifacts to make political connections rather than personal revelations.
"The first time I did that was with my first Liberation Music Orchestra record back in 1969," Haden says. "I superimposed music from the Spanish Civil War that inspired me to make the record, and the actual tape of the Spanish People's Republican Band. I've done it on numerous other albums, but I hadn't done it yet with Quartet West. When I was making 'Haunted Heart,' I started thinking that it had become necessary to do that, and I had this feeling that people would either think I was nuts or they'd love it."
As a group, Quartet West plays with an easy, intuitive intimacy that flows from their extensive intertwined history. Haden was still a teenager when he first encountered Marable, who was already an esteemed veteran from his work with giants like Dexter Gordon and Charlie Parker (he's been off the scene in recent years due to failing health, and Rodney Green often takes over the drum chair). Inspired by John Coltrane's spiritually charged mid-60s improvisational flights, Watts first gained attention with Buddy Rich, but became an LA studio legend as a player capable of elevating any setting. And Broadbent, a pianist with an expansive sound honed during his formative years with jazz guru Lennie Tristano, is also an ingenious composer perfectly in sync with Haden's haunted vision. As a New Zealand native, he knows all about LA's powerful allure. His wistful, melancholy tunes "Lady in the Lake" and "The Long Goodbye" are two "Haunted Heart" highlights (both tunes are named after Chandler novels). Ultimately, the concept works for Quartet West because the musicians deliver such emotionally committed performances.
"It's turned into a family," says Watts, 64. "We've been working together with Charlie for 20 years. I met Alan at Berklee in 1965, when he came over from New Zealand. He had won a Down Beat scholarship and I had won a Down Beat scholarship that same year. He's been a dear friend. We all get along off the bandstand, which gives the music a special kind of depth. Everybody's listening to what everybody else is doing."
The first Quartet West sessions keyed more on Haden's experiences as a young musician in LA, like the opening track of the second album "In Angel City," in inviting bebop tune "Sunday at the Hillcrest" which was inspired by the club where he often performed with Ornette Coleman. As the project matured, Haden increasingly drew from the primary sources of L.A.'s mythic noir identity as a city of danger and promise, the kind of city that he drew pictures of as a child. But rather than wallowing in nostalgia, he transforms the construct of LA as a magnate for the fallen and a source of corruption into beacon of innocence. The result is a multi-layered vision that keeps referring back to itself, an album that is the soundtrack, film and novel upon which the movie is based all rolled into one. Ultimately, Haden turns LA into a canvas upon which he seeks to answer existential questions with unspeakably beautiful music.
"I was inspired very much by all kinds of things surrounding this feeling of LA, and then it got into a thing where it was just about life," Haden says. "It was about memories of inspiration, remembering times when you were a kid and you were inspired by things and when you had magical experiences where you touched life the same way you touch music when you play. Each Quartet West album is evolving one from the other and each one is a continuation of the feelings and emotions and creative impulses that are inside me and every one on the record."
Recommended listening
These recordings are available in both CD and MP3 formats.
_____________
Born and raised in Los Angeles, Andrew Gilbert covers a wide range of musical cultures, from Brazil and Mexico to India and Ireland. A freelancer since 1989, he contributes features on jazz and international musicians to numerous publications, including the San Francisco Chronicle, San Jose Mercury News, Boston Globe, Seattle Times and Los Angeles Times. Based in Berkeley since the mid-90s, he reviews CDs for the KQED (88.5 FM) news magazine broadcast California Report.